---
Understanding the law requires diligence, hard work and experience. The real trick however is to be able to apply the complexities of our modern legal system to life events and to your changing circumstances.
Barrett Walker Legal
Here at Barrett Walker, we offer a range of commercial legal services. Regardless of whether you are a start-up or a large company, our team of commercial lawyers in Melbourne can assist the diverse needs of your business.

Legal Assistance in Melbourne
We provide a number of commercial legal services to suit a range of businesses. We pride ourselves on managing all your legal requirements, including but not limited to, corporate advisory, commercial litigation, sale and purchase agreements, intellectual property rights, due diligence, joint ventures, employment contracts, franchising, corporate governance, insolvency law and practice business structures including partnerships, companies, and trusts. We understand that each business has its own complexities and so we tailor our services to your particular needs and objectives.
Our commercial lawyers have a wealth of experience in providing sound legal advice to assist our clients.
Providing cost-effective services is of the utmost importance to us at Barrett Walker. Our team makes it a priority to deliver services and advice that suits the budget of your business, without compromising on the quality of service.
We advise our clients on the following areas of the law:
Why should you choose Barret Walker for your Legal Matters?
Barrett Walker offers personalised legal services and creative solutions that address the individual needs of your business. We pursue excellence in everything we do and aim to provide you and your business with positive solutions.
Wealth of Experience and a Dedicated Team
For nearly 30 years, Barret Walker has delivered a range of professional services of the highest quality. Our wealth of experience and pioneering strategy of combining legal and accounting services allows us to tailor our approach to meet each client's individual needs.
Our experienced team of professionals is dedicated to delivering the best outcomes for each of our clients. Coming from a combination of legal and commercial backgrounds, our skills span the range of professional services, allowing us to help you tackle the challenges presented by the constantly shifting commercial market.

Contact Us Today
If you are looking for commercial lawyers and litigation lawyers in Melbourne, our experienced team at Barrett Walker can offer specialised advice. Our team of commercial and litigation lawyers uses flexible and creative strategies to meet the needs of your business in today's dynamic environment. If you have any questions about the types of services we provide, do not hesitate to contact us. We are available to answer queries over the phone on 613 9428 1033 or through our website's contact page.
Our legal team is highly experienced and qualified to provide sound legal advice. We have been doing so for decades.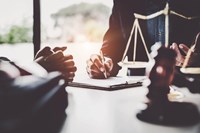 As circumstances and your objectives change it is vital that you receive precise legal advice. At Barrett Walker this is what we do.